Summary
Marina Bay Sands, Sydney, Haw Pa Villa and more! The good times keep rolling in Singapore.
Intro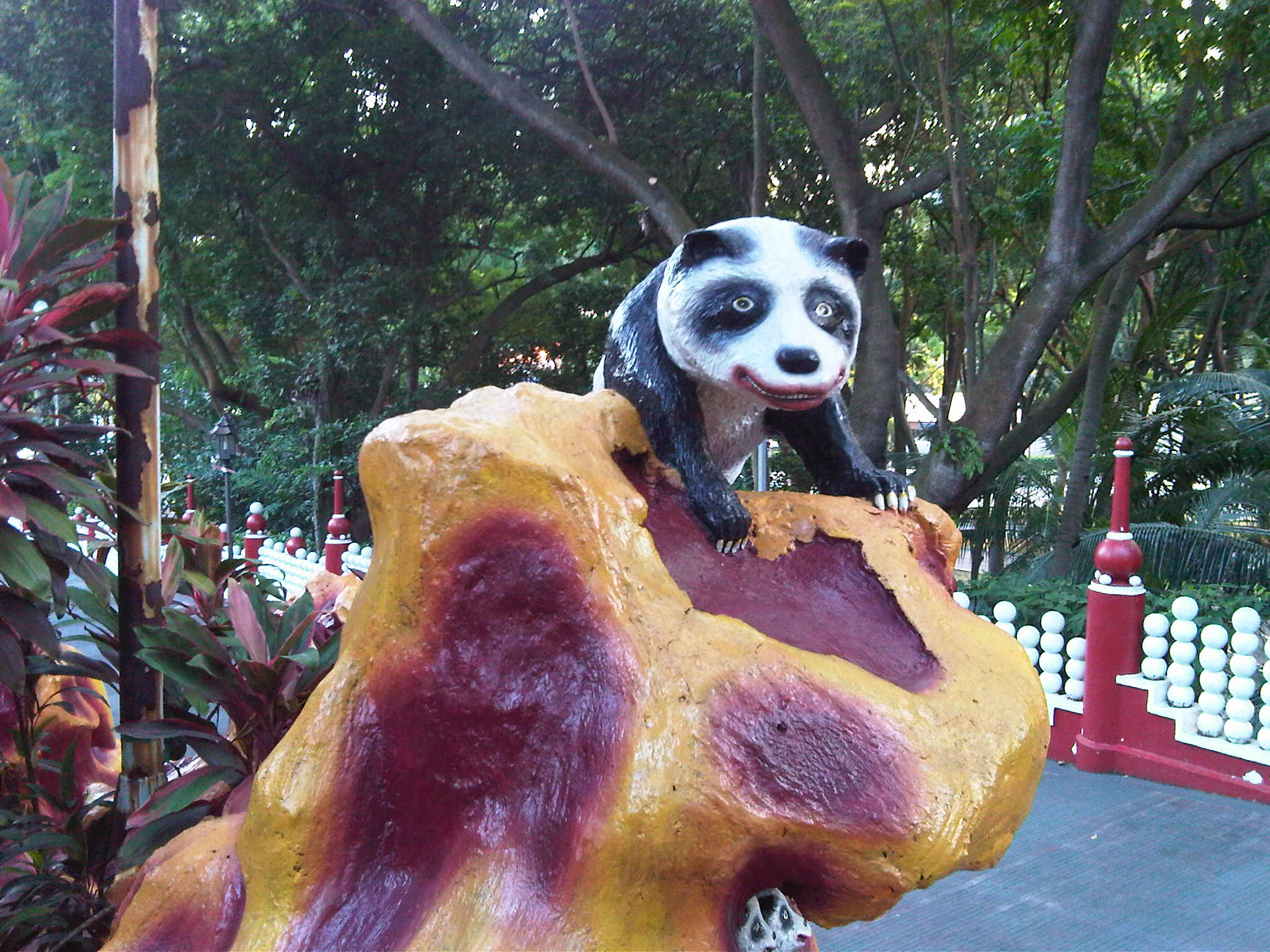 As the weeks till I return to the States grow shorter, the adventures in Singapore continue at a clip. From exploring around Sydney to the horrors of Haw Pa Villa, these past two weeks have been great. Continue reading for more.
Marina Bay Sands

left: view from the top. middle: weird louis vuitton art. right: Bryan hanging near the infinity edge pool.


Marina Bay Sands can claim to have influenced my decision to come to Singapore. It would be rather lame, and this adventure unfulfilled, if I didn't actually stay in the place. Alas, we were able to rent out a room for a night by splitting the costs among several people and then passing around the key-cards to get access places. This turned out to be a genius idea. The view from the infinity edge pool at the top of the MBS is incredible. It is quite long and there are few things like swimming along the MBS at night with the Singapore skyline in the background. Then, the elevators. These things are zippy, the travel around two floors a second. Maybe because the elevators at the SUTD dorm are so slow, anything seems fast...Anyways, Bryan and I donned robes and headed up to the pool for some sight-seeing and swimming. They require you to show a key to get to the pool. Problem was, there were six of us and three keys. No problem, as the pass-back method worked like a charm (three go in, one comes out with three keys, three go in and another goes out to get the last person).
There are a number of attractions at the top. If you don't want to rent a room, there is the SkyPark, which offers a small observer deck for $20. Sky On 57 is a restaurant located on the top, I didn't get to the try the food--with super cheap and extra delicious hawker food nearby, no dice. Ku De Ta is a club/bar located right next to the infinity pool. It had a good variety of songs but the atmosphere was a bit too hoity-toity for my liking. There was a DJ, but he had very little to do as no one danced.
The view at night is quite spectacular; though, it feels a bit contrived. Because I have a lame camera phone, none of the night pictures turned out well, but suffice to say the nearby skyline is something. The only problem is, it is apparent that the skyscrapers only extend a layer or two from the Esplande area, which dampens the grandeur, especially if you've just been to Hong Kong or NYC. However, during the daytime, when you can see all the apartment blocks that extend into the distance, the view is quite amazing.

left: Bryan and me in our robes near the infinity edge pool. middle: Looking out at the skyline. right: How the cool kids take photos.


If you have several friends and a night in Singapore, visit the MBS.
Sydney
Four days is too short to fully appreciate the wonders that Sydney holds, but we focused on a couple areas to get the most bang for our buck. Lisa and Corinne were my travel partners and it proved entertaining. Well, here goes, a couple things learned from my short stay in Australia. Also, lots of pictures! My blackberry decided it would work for more than a day.
Read? Okay, here goes. We took Scoot, a new airline that just started flying this spring. Crazy! It has a zany feel to it and all the flight attendants wear this snazzy black and yellow outfit (btw that link is to the song, which is what kept popping into my head during the flight). They also wore these very hipster glasses that made no sense. Didn't matter, service was excellent. This was a budget flight that lasted longer than a trans-Atlantic trip and I was non-the-worse for it. Brilliant.
Landed in Australia and have some trouble at customs. Apparently they can't determine whether the II in my name is ii, ll or just a plain roman numeral. Classic. I'm taken aside so they can sort out this visa mini-snafu. All clear and we are through. But wait, there's more! You see, Sydney is an expensive city. By expensive I mean paying around seventy dollars for an unlimited week pass on their transportation system. I got the same deal in Barcelona, for three months, at around a hundred euros. Anyways, we coughed up Queens (doesn't have the same ring as Benjamins, but apples and oranges) and were on our way. Cue our tourist driven failure at finding the entrance to the place we were staying, the apartment of a hilarious Aussie named Mark.
So a little about Mark. He works for the government in the city doing coding work (I surmised this from his bookshelf of MySQL, Python and other coding languages + a short chat). But his other life is spent hosting people, partying and maybe a combination of both. The first night he went over to help a friend setup for a 'Frank' party. By 'Frank' party, he meant a party where everyone dresses up as a different type of 'Frank': Frankenstein, Frank Sinatra, etc. You get the picture. And as it happens, it was his friend Frank's birthday as well. Perfect. He went as Frankestein. The next night, after we returned exhausted, he recounted his tales. He attended another party that night, dresses as a penguin and he showed us both outfits. Both classics, both making me realized that Boston needs to step it up. He showed us a super sad video about a dog named Fiona. Apparently Aussie do an activity where they pile into a van, head outside the city into the wilderness, party till late and return. Also, apparently he was a nanny before his current job. Yep.
Also staying with mark was a Briton named Krista. Moved over this passed year to nanny (she'd always wanted to nanny in Australia), but that didn't pan out. She quite and started a new job near Manly at a deli. Apparently if you marry an Aussie it is mad easy to become a citizen, else you can work on a farm to extend your visa. She was planning on working at a strawberry farm. And because her facial features didn't match a typical Briton, I inquired (yes, I lack class at times). Turns out she speaks Spanish and her mom's from Mexico. Though, not Cuernavaca. That would have been interesting. Also, I learned that pram means baby stroller.
Anyways, arrival day was Bondi beach day! It was a pleasant walk along the bay and we came across many little enclaves and parks such as Tamarama beach and Marks park. Came across red morwong. That's all I'm qualified to say about that plant, look it up. The walk was amazing and coming from Singapore is a stark contrast to Australia in terms of how strangers treat one another. Nary a shove was seen and we even got a 'cheers' when we were clearly blocking a path. Started counting the number of times strangers said hi or good day, but gave up and lost count.
The walk tired us and Lisa's work has given her around a hundred dollars to spend on dinner. Excellent. So we end up in the Rocks, a place located in Sydney's downtown. The Rocks Cafe was our destination. And a Kangaroo burger was thereafter destined for my stomach. I expected it to be tender, what with my images of kangaroo boxers. However, it was quite soft and tasted like a toned down salmon crossed with beef. Yes, that image should horrify you, but it the taste rather good. Anyway, during dinner the topic of China's ying yang food system came up. Just look it up, along with the following: harissa (chili sauce), double boiled soup and mortal sin cake. Also, Tim Tams are a delicious chocolate biscuit available here. Try them!
Bright at early (actually, an hour or so later than planned) we headed out to Paddington markets. While not quite the same as Bugis Markets or other stall centres in Singapore, it has its own charm. There was a puppet show for children going on in the church at the center of the market. We had some delicious soda bread. We ran across Delicaseys, which had delicious chocolate ranging from Honeycomb chocolate to Tasmanian moutain berry to Fluer de sel. I talked at length with a stall owner named Gregg Mould. He is a photographer who takes pictures of Sydney and other places. We started off talking about his pictures of Bondi Beach and the saltwater pools that are common along the coast of Australia. Turns out he used to live in the US of A, first in New Orleans then in Orlando. He had brain cancer and after a relapse, was finally curred and returned to Australia. Used to also be an ad marketer, but due to the cancer he can't keep up with the fast pace of that lifestyle and moved on. Look up peridot, someone was selling beautiful jewelry made of this gem. There was so much more to see at Paddington, but that's a little snippet. Visit!
Circular Quay occupies much of the Sydney downtown and is buzzing with activity. Sydney has a ferry system that extends around the different habours, such as Darling Habour, which we visited later. The Sydney Opera House is located a short walk from Circular Quay. While I didn't see street performers to rival Barcelona, we did witness a native playing the didgeridoo. There is something that is slightly disturbing about a lone Aboriginal playing this to onlookers and tourists. There is endemic poverty among indigenous peoples in Australia and it often makes me uncomfortably when they perform to gawkers trying to sell CDs that no one buys. The area around Circular Quay includes the Museum of Contemporary Art Australia and the Sydney Rugby Club (don't ask, we passed it on accident and saw a bunch of 40+ men having a jolly ol' time). Random side-note: Miles Franklin is someone you should know about.
Manly Walk (long name: Manly to Spit Bridge Scenic Walkway) is a fun journey along the Manly coast that takes you along beaches, through woods and by some great views. Starting in Manly Cove, a ferry stop that takes you by some magnificent views of Sydney's water-facing suburbs, one travels along the beach. The sights are nice and anytime of day would seem best, but later afternoon affords some great scenes courtesy of the dying Sun. Again, the people in Australia are awesome and the number of people who gave us a 'Cheers' or 'Good day' was exponentially higher than Singapore.
Hopping on a bus, we arrived near King's Cross to grab sum grub. After wandering to a non-existent cafe in a sketchy (Sydney sketchy, so not that bad) part of town (don't always trust a guide), we ended up at a bar-cum-restaurant. It was on the second story and afforded a nice view of street activity below, including the many people who needed to 'calm down'. By 'calm down', I mean they had outrageous outfits, hairdos and attitudes. While in Singapore, you will notice a lot of things that are missing: gum on the streets; public disturbances; and homeless, old and just plain strange people. Seeing a clown roll past us in Sydney reminded me of the grounds Singapore still needs to cover. At the bar-cum-restaurant, I ordered a chicken schitzel, which after getting used to the Asian (tiny) portions in Singapore, appeared massive. Wandering down a nearby street, we passed several adult shops and other 'stores'--the closest thing in Singapore is Orchard Towers, colloquially known as Four Floors of Whores. More on that in next section. We arrived at a cafe that served Pastizzi. Got one of those along with a Feijoa (i.e. guava) smoothie. We returned home to rest for mountains! the next day.
Blue Mountain! Being from the Western USA, I have a certain fondness for those great mounds of dirt, rock and life. Australia provided where Singapore severely lacks, the Blue Mountains do not disappoint. A hour or so by train outside Sydney, they roll off into the distance. The Three Sisters is a beautiful rock formation right near Echo Point in Katoomba. The Leura Cascades is nearby and we took a nice hour long walk along the side of the mountain slope. The Olympic Park was closed before we could get there! Oh well, at least this gives me an excuse to visit Sydney again.
As mentioned, Sydney has many modes of transportation, one being ferries. Darling Harbour was the next destination and can be reached by taking a ferry from Circular Quay. After searching for an appropriately priced restaurant, Casa di Nico Italian seemed to fit the bill. We ordered Capricciosa and Calzone Salsiccia pizzas, both of which were excellent, along with chips (fries for you Americans). Besides the waiter, who looked like he was having a very off day, the atmosphere was nice.
And then we ended the trip in the most glorious fashion: Pancake on the Rocks. The menu is a plethora of deliciousness: Devil's Delight, Pancake Stacks, and Farmer's Brunch. I opted for the Bananrama, a set of thick, sumptuous pancakes with bananas and some syrup. Doesn't get any better than that. Note: If you have some cash to spare, try Summit or OrbitBar. They were spoken highly of.
MIT
Being an MIT alum, it is my duty to continue brainwashing students to go there. In addition, I am also now realizing how wide the network of Engineers is. MIT Club of Singapore has an annual BBQ every year and we happened to be in town for this one. It was located near the American Club Singapore. There were several class of 2016 students there: Yihui Quek, Amyas Chew, and Yongquan Lu. Along with that, I met Meow seen Yong, a 2001 Master of Science in Mechanical Engineering. He had encouraging words about Stanford. Terence Lim is a Master of Finance 2012 and some others are working at SUTD (where the MIT students are helping out).
While signing in, had a short chat with Susanna Wong, who was a course 22 (i.e. Nuclear Engineer), but moved into trading and was in Hong Kong for awhile before going to Singapore. Actually went to highschool in the UK. Crazy how much some people move around and that your major doesn't always decide even close to what you'll be. Anyway, also met Jusleen Karve, a '08 who works for the GE power division here. Might try to see if I can get a tour of their facilities! Lastly, chatted awhile with another '16, Zhou Penghui. He's a bit older, due to Singapore's national service requirement, but he's already worked as an analyst at OCIF. He's thinking of being a mathematics major. I tried to show him the virtues of biology. We'll see.
Vivek and I went on a random excursion to Orchard Towers (Four Floors of Whores). Hard to describe this place. It is located right near legitimate (and touristy) shops on Orchard Road and feels absurdly out of place. The prostitutes, concubines, helpers or whatever name you want to give them all look like they have five pounds of make-up on and all the men there are sleazy Europeans. Leaving, we tried to sneak up to ION SKY, but apparently that wasn't possible. The $16 admission fee seems a tad high when compared to the $20 fee to get to the top of the worlds-better Marina Bay Sands.
Haw Pa Villa
Imagine you paid an architect+sculpture to bring your dreams to life, without any filter. That would be Haw Pa Villa. But perhaps I'm being harsh, it is a wonderful mix of the zany, cartoonish and historical. In a sense, the sheer ridiculousness of the park, located in a country as conservative as Singapore, adds to its allure and memorability. The park was originally a villa built by Aw Boon Haw for his brother, Aw Boon Pa. He was an entrepreneur who marketed Tiger Balm. Just go read up on him, it's good stuff.
Let's start off with the Ten Courts of Hell, which are guarded at the entrance by Ox-Head and Horse-Face. When you die, you are judged. That much is clear. But here there are judges known as the Ten Yama Kings and one travels across different bridges, e.g. a silver or gold one will save you. Otherwise, you are condemn to hell or diyu. And what a hell this is.
For example King Dushi is responsible for the Hell of Fire, where prostitutes are bathed in boiling blood, die and are reborn to suffer again. Fun. Another has people continuously impaled by a daggered tree. Each court of hell is ruled by a king: King Songdi, King Yanluo, King Biancheng, etc. Near the end, Samasara (reincarnation) is offered by Meng Po as ways for people to leave hell. If you want to know more, read about Diyu.
Upon exiting, we came across one of the more bizarre scenes. It depicted rodents fighting (or trying to wrangle in) some massive crickets. It made no sense and had no context (few things in the park have context as most lack info card). Yet it somehow fit. This was complimented by a nearby sculpture containing a battle between different rodents, with some being carried off in bloody stretchers. Use your imagination.
Then we have the stories of Pigsy, the Monkey God and Sandy, three of Xuanzang's disciples. Xuanzang (Tripitaka in some Western texts) is a Buddisht monk from Wu Cheng'en's Journey to the West, a classic of Chinese literature. Because wikipedia knows more than I about this subject, read the link! It's a good story. Anyways, one of the scenes in Haw Pa Villa is the Spider Women Trap. Basically, Pigsy is distracted by the Spider Women's friends (they are sexy...supposedly) and thus she is able to capture Xuanzang. Sandy runs off to find the (formerly) expelled Monkey, who saves the day. Monkey's appear to save the day a lot in Hindu and Buddhists stories. I kind of like it. They are still not as cool as the Peregrine Falcon. But then again, what is?
Back on track, more tales! The Grateful Tortoise is a fun tale about how important friends are. There is also Hu Fu Shi Zhe, who is said to control ghosts and uphold the laws of the Ten Courts of Hell. They you have Kang Xi, who was an emperor that found his long lost brother. When his brother returned, the Emperor brought him to court, which the others already there didn't approve of. They bullied him and Emperor Kang Xi had him weight everyday, if he lost weight then the Emperor would punish the other council members for harming (i.e. starving) his brother. Interesting.
There is Su Qin, Jiang Zi Yu and others. Some scenes depict the Eight Immortals fighting Neptune and performing other great deeds. We see the Monkey God's flower fruit kingdom. According to myth, he was born on Mount Huaguo or Mount of Flowers and Fruit. There is so much more at this place, it is insane. Best if you just visit to find out more of the eccentric, baffling and informative works contained within.
Food
And here you thought that I'd be done finding new things, more food! Sambal sotong rice is composed of squid with steamed rice and the contrast between the sticky, chewy squid and soft rice is perfect. At the HabourFront MRT, the food court in the Marina BayMall or in truth almost anywhere, you can find beef pepper rice. It is basically rice with beef that has some seasoning. Some stalls serve you the meat raw, but the plate is super hot, so you have a limited amount of time to swirl the rice, egg, spices and meat together exactly as you would want. Super convenient.
Sizzling curry rice with beef or hamburg steak is a rather good dish. Similar to the black pepper rice, it is often served not completely cooked (and normally includes a partially done sunny side up egg). However, after a furious 10 seconds, you'll be good to go. The curry served with it is mildly spicy, which is good in this case because the dish is actually hot, so combining that with food picante would be problematic.
Food Opera @ ION Orchard is pretty large; though, admittedly a bit touristy and lacking some of the slightly grungy yet appealing feel of other hawker centres like Old Airport Road or Chomp Chomp. There are several good stalls there: BBQ Fish, a drink stall that serves monin soda, and others. I got the Ikan Goreng or fried fish. I was expecting them to cook it then and there, but unfortunately this is ION, so things are a bit...prepared. Ah well, it tasted pretty good and combined with a passionate strawberry monin soda there wasn't much more you could ask for.
Heading over to Raffles Place MRT and walking down Robinson Road, you rapidly approach Lau Pa Sat, a hawker centre at the heart of Singapore's downtown. It is bustling with activity and the center has a stage where cover bands often perform. There are stalls to serve every palate and I chose a Korean stall that served Bibimbap, a concoction of rice, vegetables, egg and beef.
Vivo City has a hawker centre that has a variety of stalls; though, like Food Opera, it is a bit more touristy in feel. You can get tomato rice, which taste pretty good but I recommend you see how the stall prepares its food before you order anywhere. Disappointingly, the tomato rice stall thought using a microwave constituted cooking. Super lame. At a nearby stall you can get Taiwanese screwed meat and scallion pancakes. The pancakes are a bit like tortilla española, but they are made of dough as opposed to potatoes.
While I haven't yet been there, Crystal Jade La Mian Xiao Long Bao is a seafood restaurant located near Holland MRT that serves chili crab and other foods. It was highly recommended by a local.
Batman
Brief detour about the Dark Knight Rises. This movie was insanely marketed, even here. There were posters everywhere and near Bugis Markets there were life-size sculptures of Batman, Catwoman and Bane in their respective suits (that oddly enough had a sign saying 'High VOLTAGE' nearby). The movie was entertaining, but there were a lot of things that made you go 'huh' [partial Spoiler alert ahead]. For example, if a city is threatened with a nuclear explosion, thugs are on the lose and all other crimes are occurring, why are the streets nice and pretty? There are a lot of things that just happen, which I am normally fine with in films, but Nolan (the director) prides himself on realism and in this case, it didn't seem to hold up. For example, Batman (i.e. Bruce Wayne) seems able to move around the world at will, even if he's left in the middle of the desert with no ID, money or contacts. But I guess that doesn't matter, it's part of the myth created here.
And while Bane is a fun character, his motivations always seemed odd--Of all the cities and places to destroy, why Gotham? He only gives a vague reason and unlike the Joker, he seems to have more of an overarching plan. Does Gotham exist in a vacuum? Are there not other places to terrorize? And why do armed gunmen never use their weapons? In any case, go see the film, in IMAX if possible, as it is beautifully filmed and keeps going at a good clip. Also, there is a great twist that brings back memories of A Game of Thrones' quote: 'See with your eyes, not your brain'. You'll make the connection after seeing the film.
Nightlife
Powerhouse has free student nights on Wednesday. This time around there were less MIT people, but it was no less fun. We still manifest-destined the dance floor. Perhaps it is time to explain our adoption of 'Manifest Destiny' in context of a club. Americans seem to have a national pride that has nothing to do with antagonism toward another nations, as is sometimes the case elsewhere. It stems not from xenophobia--though that can express itself in some regions--or a nationalism that shuns real criticism and seeks to silence others. No, it is a no holds barred obsession with America, in all her flawed grandeur. As such, this manifest itself in many areas, one is the dance floor. Basically, Manifest Destiny is the idea that we have a God given right/are destined to do...something, as opposed to its traditional, narrow meaning of America must expand from the Atlantic to the Pacific. In this case, the dance floors would always seem empty at a time when they should be hopping, so we would go in and make it happen. Classic. This is, of course, all in light-heated fun.
Also, the DJ at Powerhouse needs to STOP talking during his sets, it is endlessly irritating. Aspiring DJs should go there to learn what not to do.
Hair
Went to QB House to get my hair cut. Unfortunately, I can never quite find a replacement for a black barbershop abroad. Luckily my hair grows back pretty quickly. Tell next time.
-biafra
bahanonu [at] alum.mit.edu